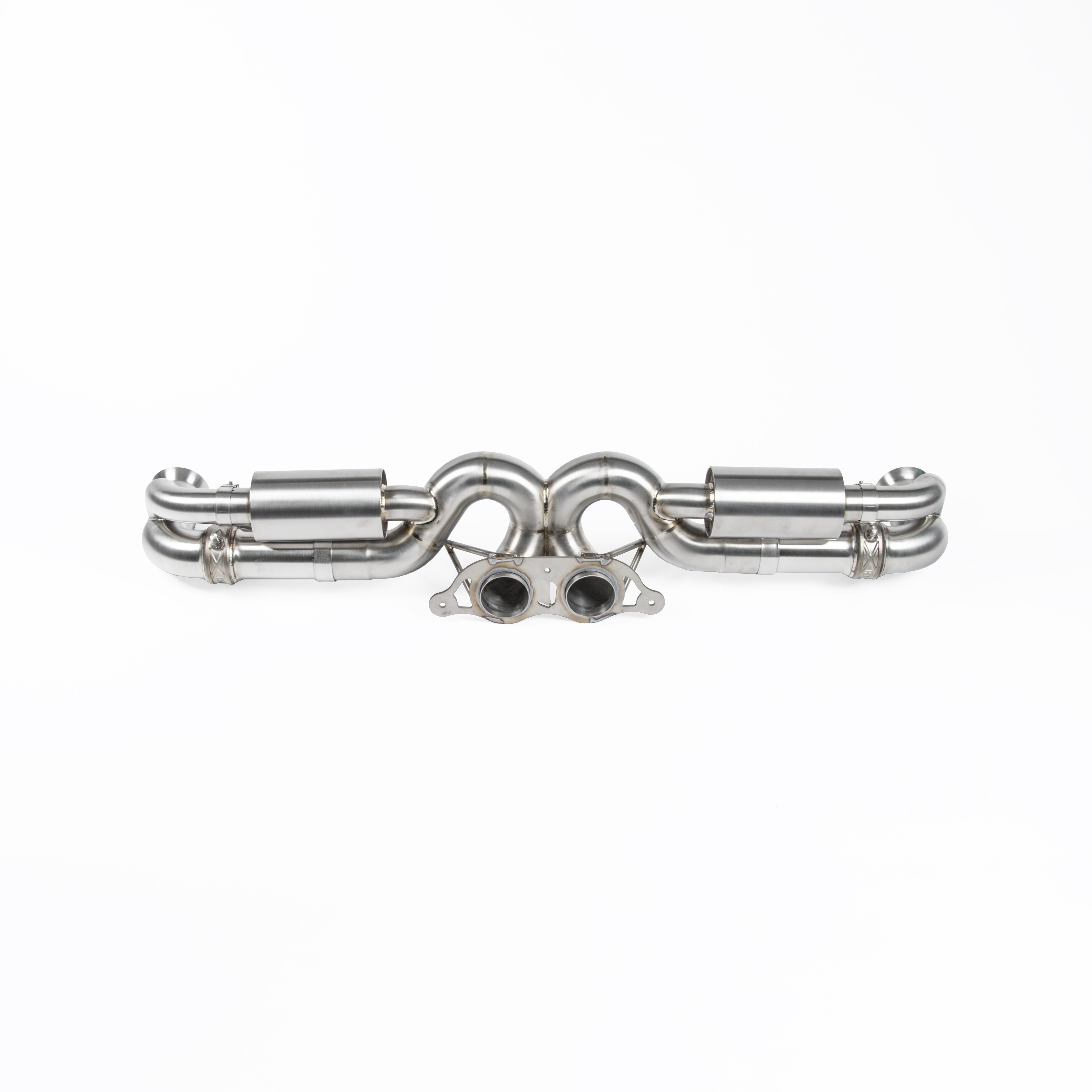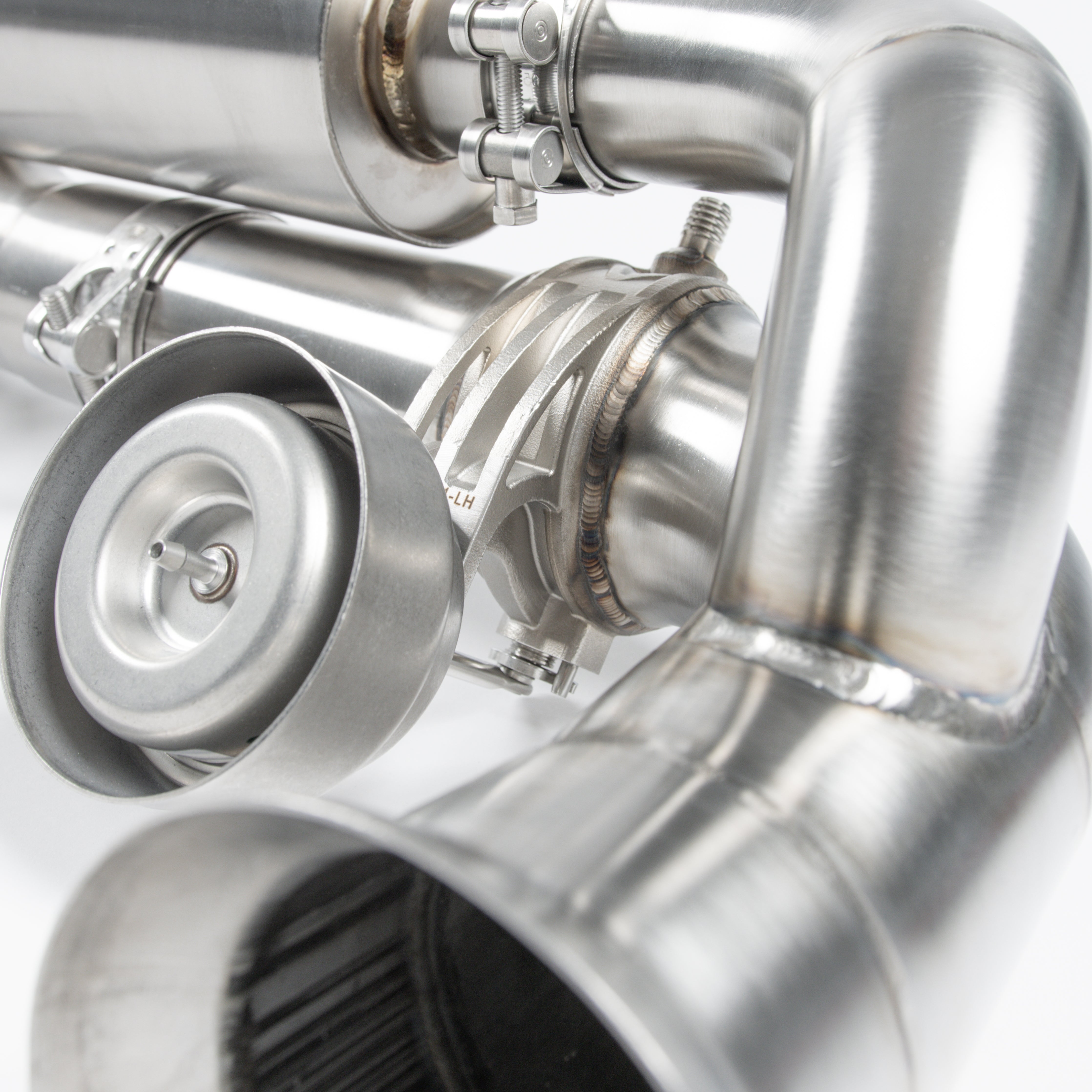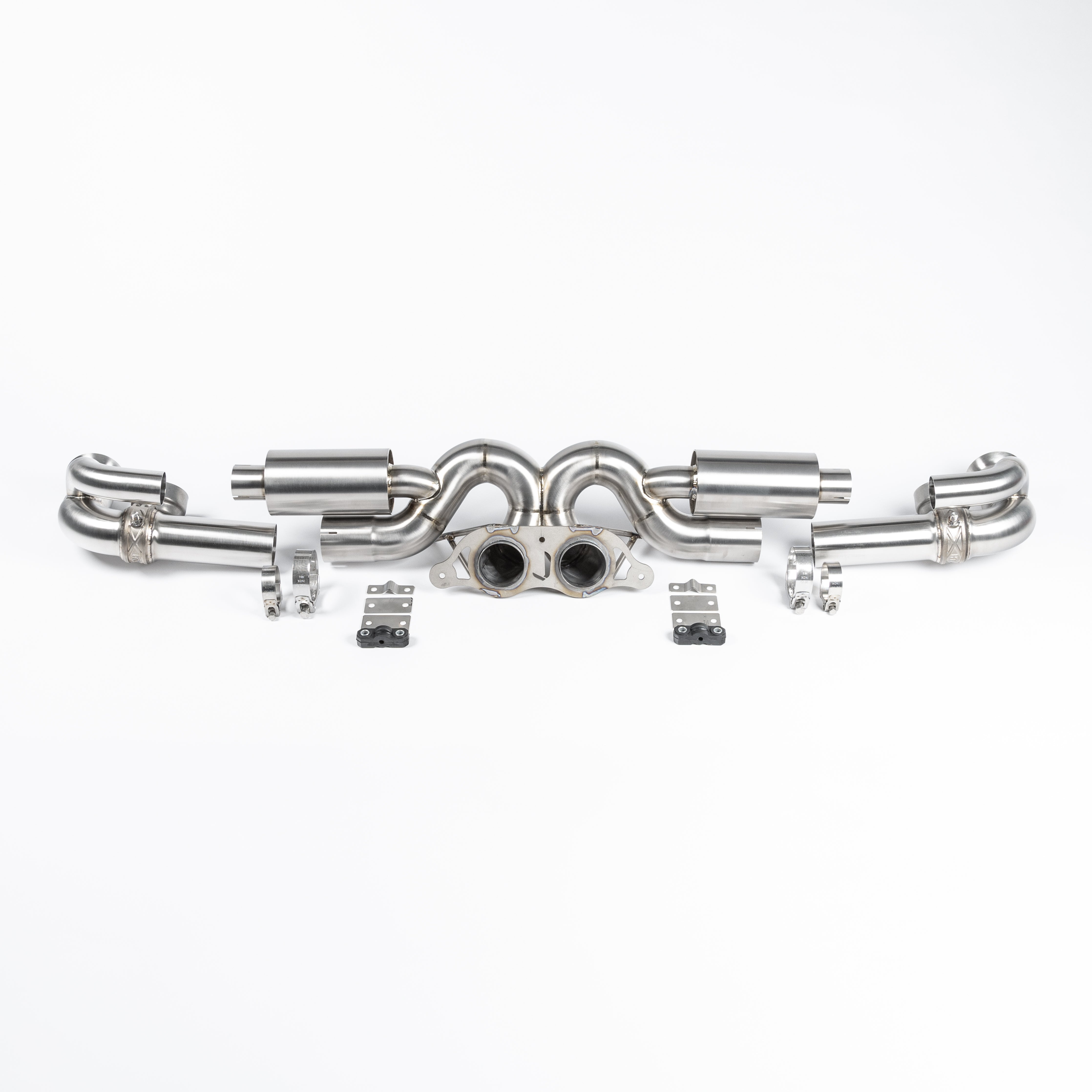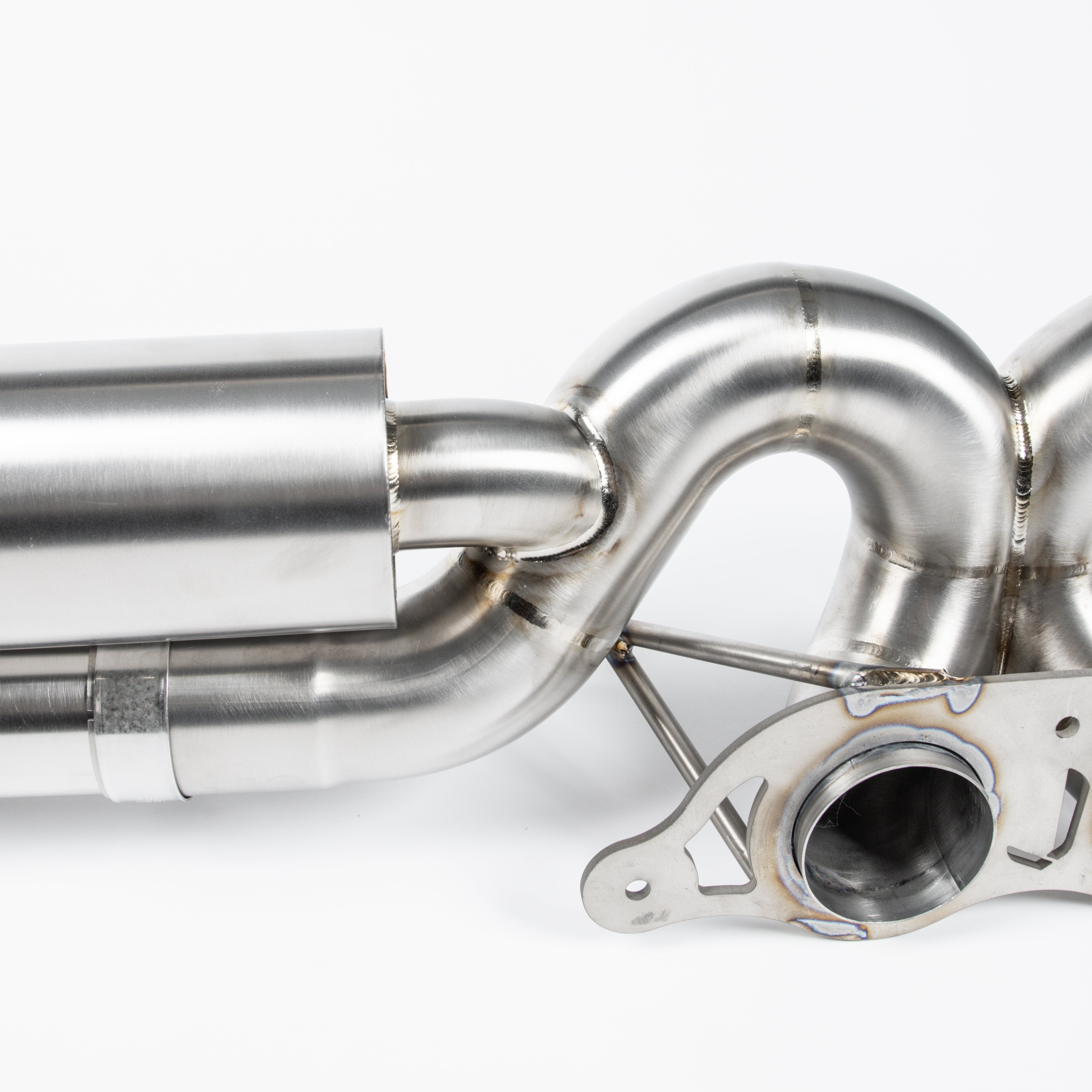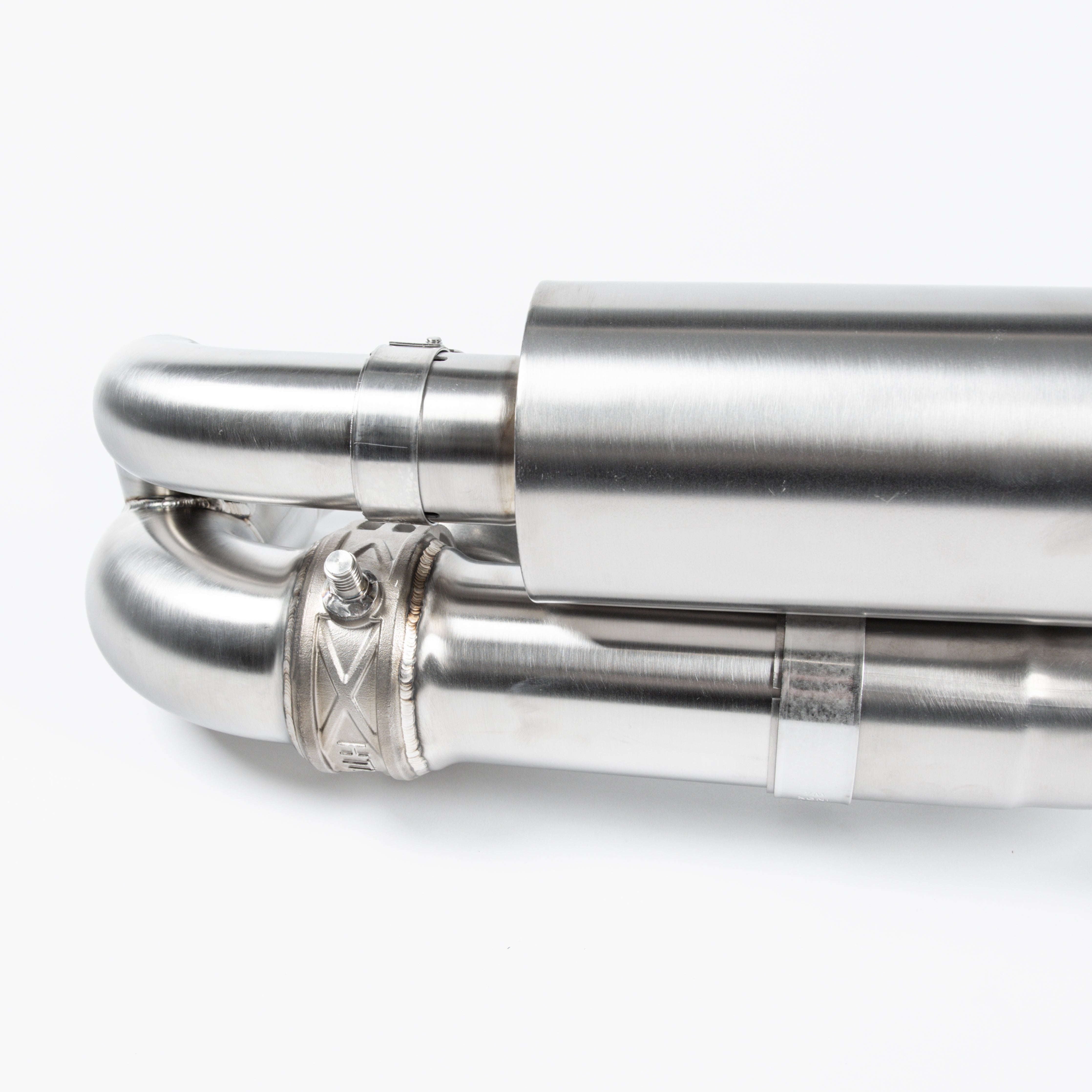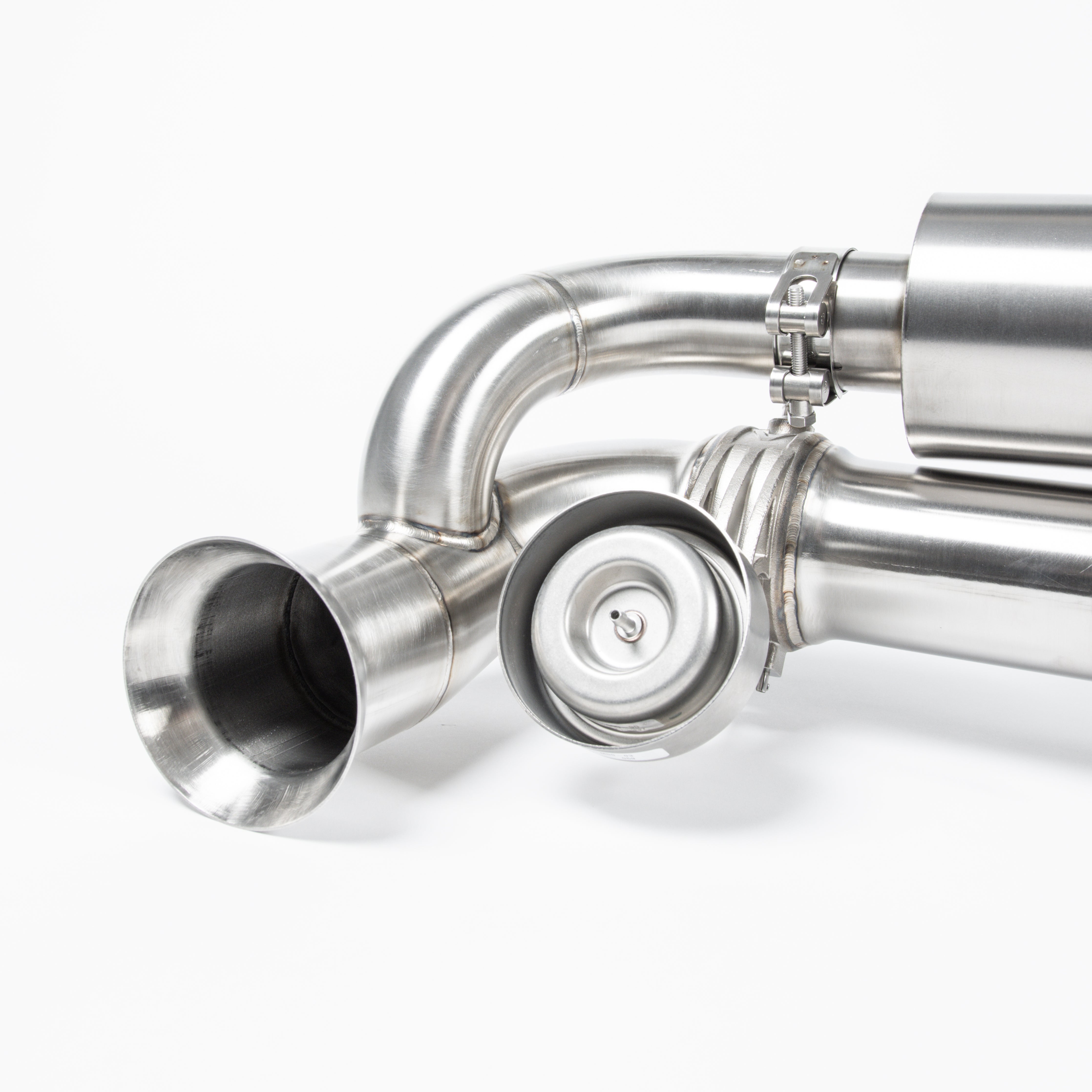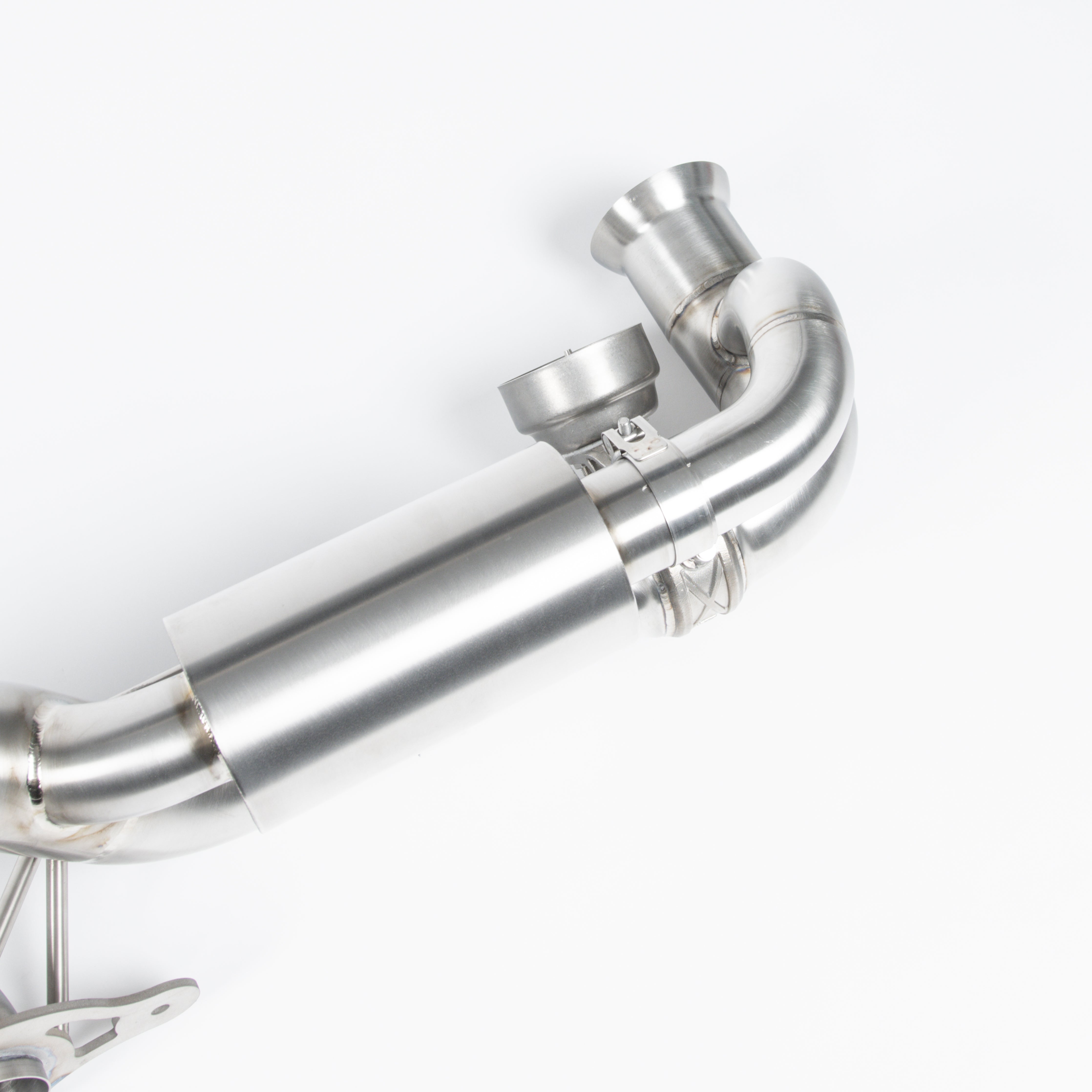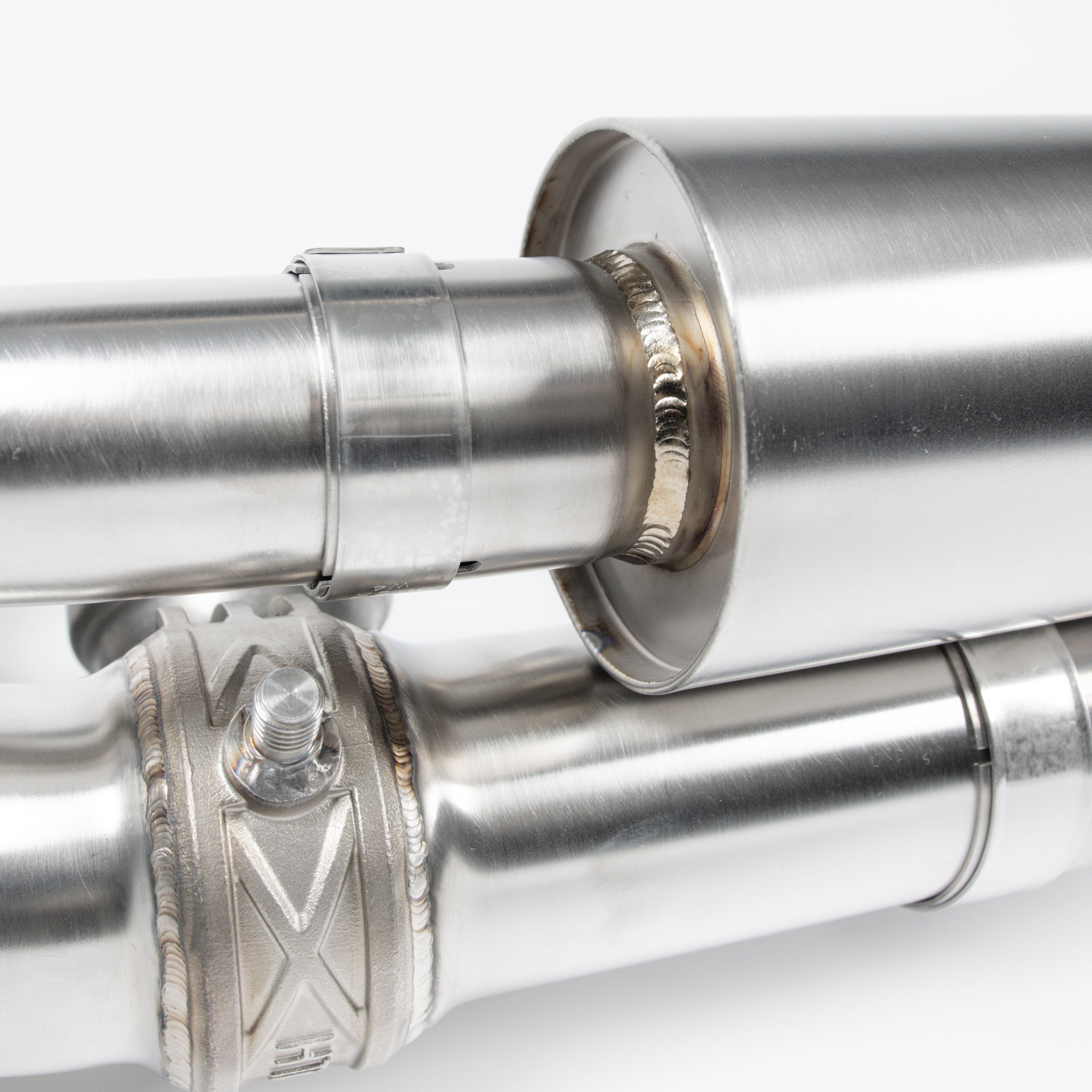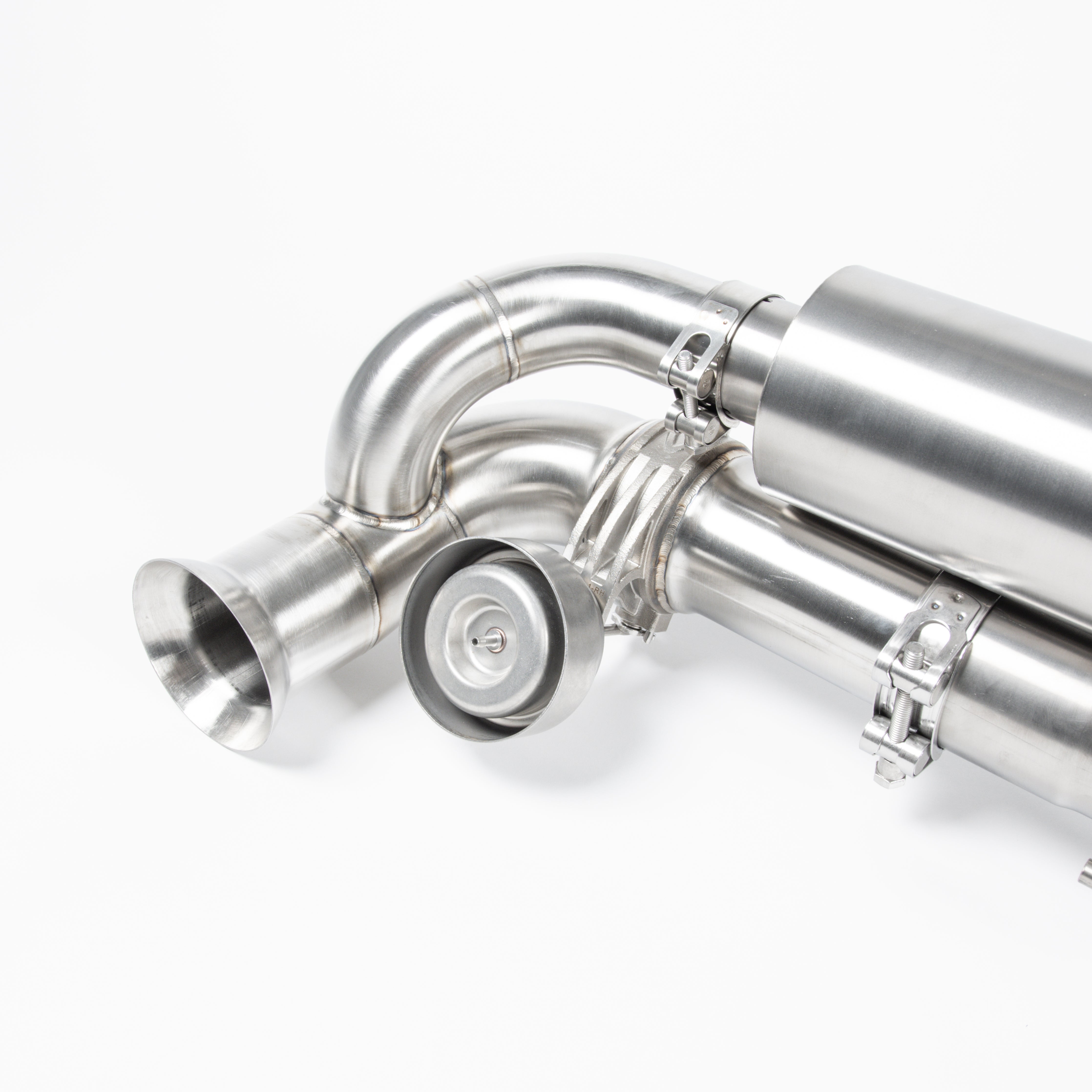 TITANIUM SUPERLIGHT RACE PIPE (VALVED)
Introduction
From the 997.1 GT3 to the latest 991.2 GT3 RS, the factory exhaust system is somewhat a comprimised piece. Porsche have engineered an exhaust system which will meet the requirements of each and every customer, from the every day driver to the most avid track day fan.
The JCR Exhaust line is modular in its construction, meaning that when combined with factory components our products allow for an impressive number of permutations. We offer a number of material choices, from high grade T321 Stainless Steel through to the lightest weight motorsport grade Titanium. This means that no matter what you're looking to achieve our line of Exhaust components will surely be able to fit your needs.
Valved Exhaust
The JCR Titanium Superlight Valved Race Pipe offers the best of both worlds. Raw uninterrupted Race Pipe sound with the valves open and more quiet operation with valves closed. The perfect solution for those who love the Race Pipe sound but want to retain the factory Porsche exhaust button functionality inside the cabin. The valved & silenced design enables owners to quieten down the exhaust at the flick of a switch, dramatically reducing sound levels inside and outside the vehicle.

The Design

Through extensive testing and development we have perfected a number of key areas in the exhaust systems design to perfectly tune and accentuate the tone and pitch of the JCR Titanium Silenced Race Pipe's sound and performance. The system features 70mm pipe work which allows us to reduce overall back pressure levels whilst maintaining low down torque.

The system then merges into another key point, collecting the gasses and creating a scavenging effect whilst targeting unwanted drone frequencies then heading back out into a twin 70mm to the factory style 3-bolt flange allowing customers to retain OEM tips or upgrade for any aftermarket tips which utilise the OEM style 3-bolt flange.

We have manufactured a light weight fixing, utilising the OEM centre bracket we support the Titanium Superlight Valved Race Pipe from the rear of the centre flange ensures no additional load is applied to the header flange. This also enables us to mount the exhaust with a small rubber mount, isolating any unwanted vibrations from entering the cabin.

Performance Increase

Every component of the JCR Titanium Exhaust line is guaranteed to improve HP & TQ with to a varying degree dependant on the specific combination of parts. In combination with the OEM headers the JCR Titanium Superlight Valved Race Pipe in testing saw peak gains of 10-15bhp and 10-12ftlbs or torque no low down torque loss over the OEM header back system, performance is on par with the regular (non silenced) Superlight Race Pipe with only a small weight penalty due to the addition of valves and silencers into the system.
RSR Sound

For anyone who has heard the 2018 GTE 911 RSR in person they would be hard pushed to say that there is a better sounding race car. We feel we have managed to achieve that same glorious tone with the JCR Titanium Superlight Race Pipe, hearing truly is believing in this case.

Key Features
Titanium (Asnex) Centre
Inconel 625 Side & Valve Sections
Weight reduction -18.52kg / 40.83lbs VS OEM Exhaust
OEM Spec Helical Technologies Exhaust Valves
15HP & 12TQ Increase
OEM Style 3-Bolt Exhaust Tip Flange
Applications
997.1 GT3 / RS
997.2 GT3 / RS / RS 4.0
991.1 GT3 / R / RS
991.2 GT3 / Touring / RS
Pricing
£4995.00 GBP

All prices are listed without UK VAT included (20%) All UK based customers orders will be subject to UK VAT
Lead Times
JCR products are produced in batches, we aim to carry stock of all products however in the event that parts aren't in stock please allow approximately 30-60 business days after the point of ordering before your parts ship. For lead time estimates prior to ordering please contact us via the contact page
Sale price

$6,819.00 USD
Regular price
(/)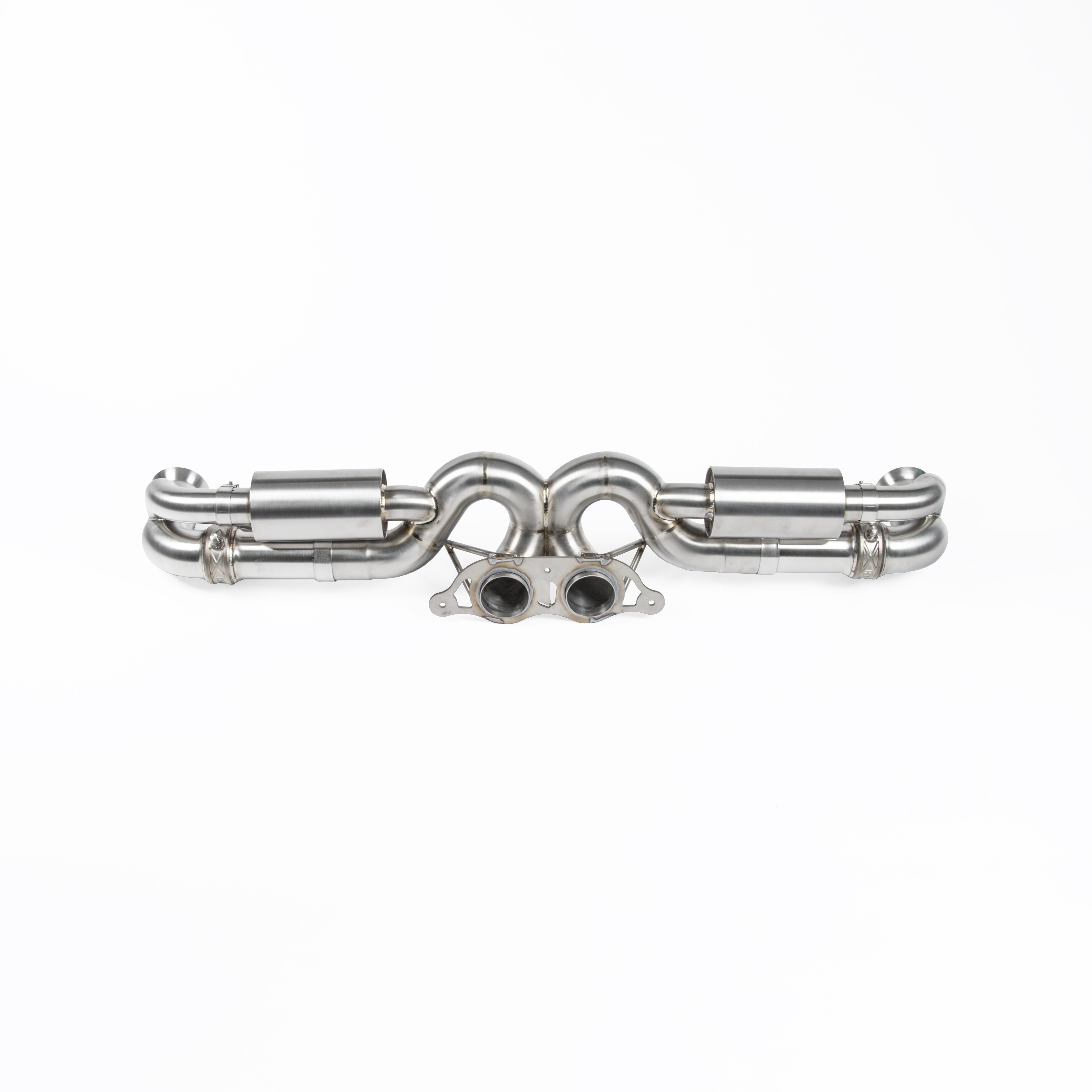 TITANIUM SUPERLIGHT RACE PIPE (VALVED)
Sale price

$6,819.00 USD
Regular price
Choose options