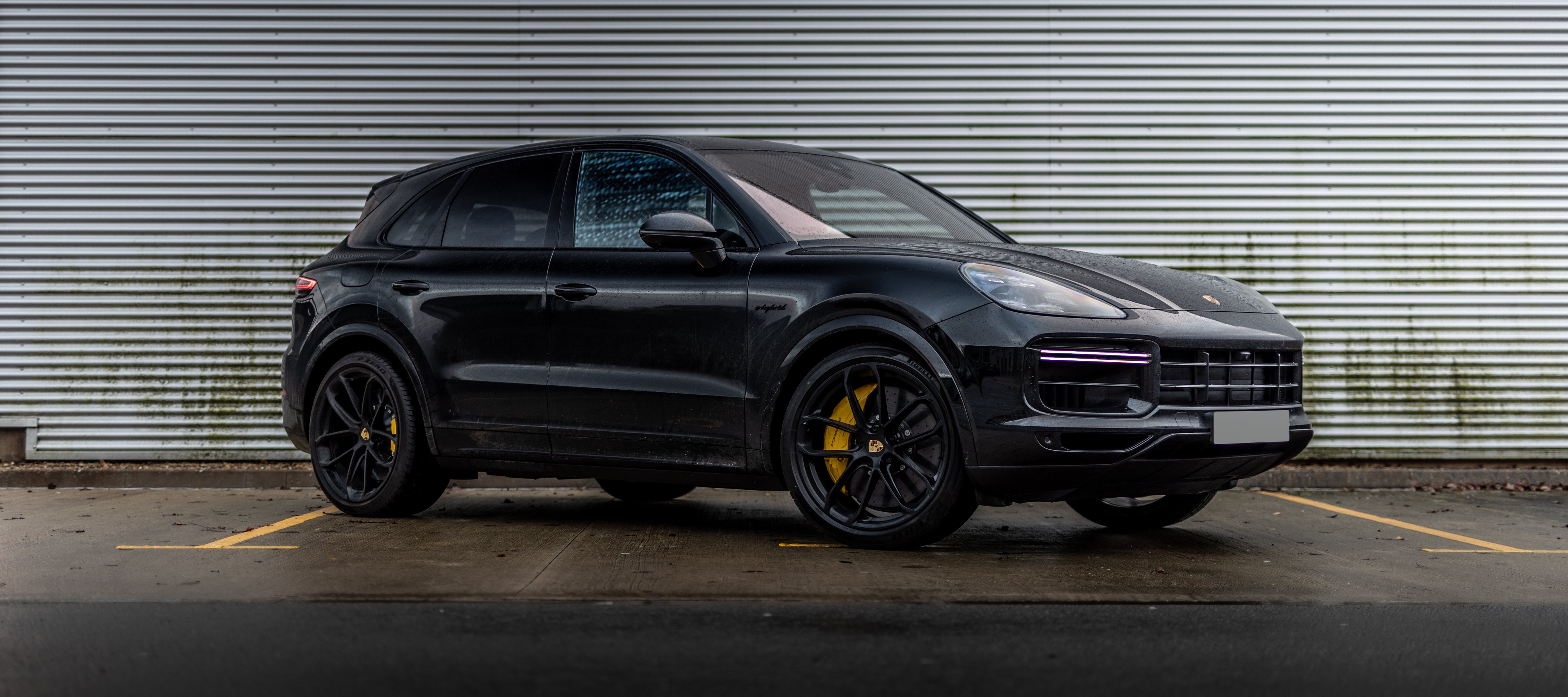 We're very excited to share with you the new member of the JCR fleet. Introducing the Cayenne Turbo S E-Hybrid
The car is finished in stunning Chromite Black and finished with Black Leather and Crayon stitching along with all of the optional carbon fibre and race-tex available!
"I have been really looking forward to finally trying out the Hybrid side of the Porsche range and so far so good. Just like with JCR, hybrid technology was developed on the race-track and it really shows in the way that the hybrid and IC power are integrated into the driving experience" - JCR Managing Director, Jonny Cocker. 
As you all know here at JCR we like to enhance the performance of a car and we're really looking forward to exploring a new range of products for Porsche's running SUV range starting first with the Cayenne platform. We have some ideas and plans as to how we will enhance this car to give it the JCR touch.
Before the car had even left the showroom and we already changed up a fairly major component. We swapped the factory wheels for a set of OEM Porsche Cayenne Turbo GT wheels which not only dramatically reduces unsprung mass but also gives the car a much more aggressive look!
The Porsche Performance results are already very impressive but we look forward to the challenge of improving not only outright performance but also the efficiency of this vehicle
Top speed - 183 mph
Acceleration 0-62 mph (0-100 km/h) - 3.8 seconds
Power combined (PS) - 680 PS
Due to manufacturing and supply chain delays the collection of the new Cayenne Turbo S E-Hyrbid was over a month later than first expected however we were very fortunate to be dealing with the fantastic professional team at Porsche Centre Sutton Coldfield who provided us with an above and beyond level of service throughout. A huge thank you to the team at Porsche Centre Sutton Coldfield, we look forward to working with you again throughout 2023 and beyond with some very exciting new projects. 
We would also like to extend a massive thanks to our good friends at Dynasty Partners who assisted us along the way. If you've not heard of Dynasty Partners before then you can find out more about their products and services here
Let us know what you think of the new JCR SUV and stay tuned for the new updates and products coming soon.